View Message in Browser    |    View Message Archive
| | |
| --- | --- |
| FY PARENTS & FAMILIES | MAY 5, 2021 |
Welcome, Emory Class of 2025 Families!
We are so excited to welcome you to the Emory community! The New Student Programs team, working in collaboration with Emory's Office of Parent and Family Programs, is here to provide resources and opportunities for you throughout your student's transition process to Emory. 

Beginning next week, your student will receive bi-weekly emails from us with important student action items, transition tips, and helpful resources. Parents and families will receive their own bi-weekly messages, including the schedule for our upcoming Family Friday webinar series.

Today, your student received their first official email from our office which includes this video from our Orientation Leaders who are excited to welcome them to Atlanta...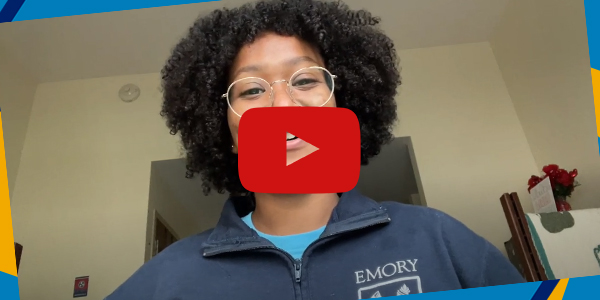 Mark Your Calendars!
Orientation Week: August 21 – August 24, 2021 
 
Move-in for students participating in Pre-Orientation Programs will take place on August 17, 2021. Move-in for all other first-year students will take place on August 21, 2021. 
 
We anticipate being able to welcome parents and families to campus for move-in, with limitations on the number of guests who can enter the residential buildings or other campus facilities. 
 
New students and families will be provided with additional details and protocols regarding move-in and Orientation Week throughout the summer.
Contacts & Resources

Our staff are here to support you and your student during their transition to College. We're happy to answer any questions or concerns that you might have. You can reach our team at ec.orientation@emory.edu or by phone at (+1) 404 727-9000 (M-F / 9am - 5pm ET) .

 

Available Now: New Student Programs website | Our website houses resources and updates for students and families. You can also find an archive of all the messages we have sent to you and to your student!
 
Coming Soon: Reference Pages & New Student Checklist | Next week you'll receive our Reference Pages, a downloadable guide to Emory designed specifically for new first-year students. You'll also receive the New Student Checklist to help your student stay on track this summer!
 
Emory Forward | You can find all the latest information on Emory's COVID-19 response and our fall plans on our Emory Forward website.
 
This message was sent on behalf of Emory College New Student Programs
If you would like to unsubscribe please contact ec.orientation@emory.edu.